​Nippo Classic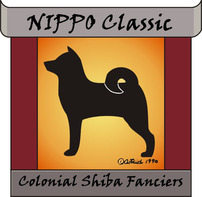 ​
The Colonial Shiba Club, Inc. is a non-profit organization dedicated to the preservation of the true Japanese Shiba Inu through education and presentation of a yearly Nippo-style event. We
encourages those who support the mission of the Club to become members of Nippo. To find out how you can join Nippo and register your Nippo Kennel Name, click here.
​
As a convenience to those who joined Nippo through Colonial and to assist those who previously renewed their memberships through BSA, you may renew for 2018 through this site.
Click here
for renewal information and online renewal/payment form. .
NEW----Two Classics in 2018. Click for additional information.
---

ABOUT THE CLASSIC

The Event : The Classic is an educational weekend and Nippo-style competition for dogs of the native Japanese breeds. Originally an event for Shiba Inu only, in 2010 we opened the event to other Japanese breeds. 2014 was our 20th Classic for Shibas.

The Judges: NIPPO graciously assigns a senior judge to officiate and educate our attendees. He is assisted by an AKC judge, selected by the Colonial Shiba Club, who is prospective, permit, or approved for one or more of the breeds competing. Our Nippo judge also conducts a educational seminar on each of the breeds competing. This seminar is valuable for those who breed and evaluate Japanese dogs. It's also equally important for those judges in AKC and other event-giving organizations who want to get a better understanding of the critical points in judging the native Japanese breeds.

The Club: The Colonial Shiba Club, Inc. is a non-profit organization dedicated to the preservation of the true Japanese Shiba Inu through education and presentation of a yearly Nippo-style event. The Club is committed to educating those who honor and respect the Japanese breeds and their history and to preserving the Nippo standard through selective breeding of quality dogs. The Club is the US affiliate organization of Nippo.

We promote and adhere to the Nippo standard of excellence, which accepts only Red, Red Sesame and Black & Tan colors in the Shiba.
​

About NIPPO

NIPPO was established in 1928 by Dr. H. Saito to preserve the native dogs of Japan. The Shiba Inu and Akita-Ken were among the six original breeds. Since then, NIPPO has been the only governing organization for the Shiba Inu. Approximately 35,000 Shibas are registered annually in Japan, ranking the Shiba as the most popular native dog in Japan. NIPPO holds more than 100 local, regional and national shows.

The Nippo Grand National Show in November routinely draws an entry of approximately 800 Nippo dogs, who have won qualifying awards in order to compete in the yearly event.

---