FREQUENTLY ASKED QUESTIONS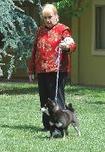 Since many Shiba fanciers have not previously participated in the Classic, we will attempt to answer some of the more common questions here. As questions are received, the answers will be added.

Does my entry have to be Nippo registered?
NO! We do not require that an entry be registered with Nippo. Our mission is to educate U.S Shiba breeders and to preserve the Nippo standard. We encourage all those with eligible dogs to register with Nippo; however, Nippo, AKC, Canada Kennel Club, Japan Kennel Club, or other common registries are accepted.

Do I have to be a member of Nippo or the Colonial Shiba Club to participate?
​NO. We encourage membership in Nippo and can assist those who wish to join, but membership is not required.
​

Do I need a Japanese style collar/leash?
NO. I rolled leather collar with a flat or round leash is acceptable. Generally leashes are more substantial than those used in AKC, and should be long enough for the handler to stand about 2 feet behind the dog.





Does this event accept spayed/neutered dogs?
No

My puppy does not yet have a registration number, can I enter?
Yes. Put 9999 in the place for registration number. Colonial will assign a temporary number just for our records.

Can I ask the judge about my dog?
The judge will be available to provide feedback to those who have entered after the event..
---